This unit is designed to cope with various customized specifications.The unit is our standard dispenser unit and can be customized to your specification needs.
The applications can include adhesive coating (line coating), work injection (potting) and various other applications.
All purpose and multi-type applications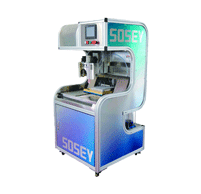 Accurate metering by precision gear pumps.

The size of the tank is 4L, and made of the glass. (The option is made of 10L glass or 30L Stainless steel or 60L Stainless steel or 90L Stainless steel).

Full-automatic system of the potting work can be incorporated by optional XYZ robot addition.
This sample is XYZ robot built-in work

The mixer is composed of Wonder mixer that does not require washing.(If so rquested, the washing type can be opted.)

The touch panel was adopted for easy operation.