The container rotating agitator is extremely popular for high viscosity material mixing at working sites and factory environment.Perfect degassing is achieved by rotating the container.
Many options are available such as mixing blade material, blade shapes, input voltages, explosion proof, rotating speed, rotating directions etc.
MK series have been model changed preserving the strong points.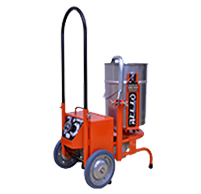 Due to introduction of a spiral holder, it is possible to mount either straight can as well as tapered can.

The relocation of the unit is much easier since it is equipped with tire wheels and a handle as standard.

The stirring angle can be easily adjusted by the leg extension.
The unit is equipped with mixing blade storage space as a standard and it will not require additional space for blade keeping and moving.

By rotating the container, air intake is minimized during mixing operation.

The mixing timer is designed to minimize operator's involvement.